Save money and make your bread from scratch with my simple Large Family Freezer Bread Dough recipe. Once you prepare your Large Family Freezer Bread Dough recipe, you can make sandwiches, toast, and other tasty foods for your crowd! Maybe you'll want to have your bread with some amazing homemade soup!
Large Family Freezer Bread Dough
Learn how to make the perfect dough to prepare delicious bread with a crisp outer crust and a soft center. Once you make this dough from scratch and bake it, you'll have plenty of bread available to use for all different kinds of meals for your family! Whether you want to dip it in soup, spread jam over it, or even make sandwiches with it, having this Freezer Bread Dough recipe will come in handy.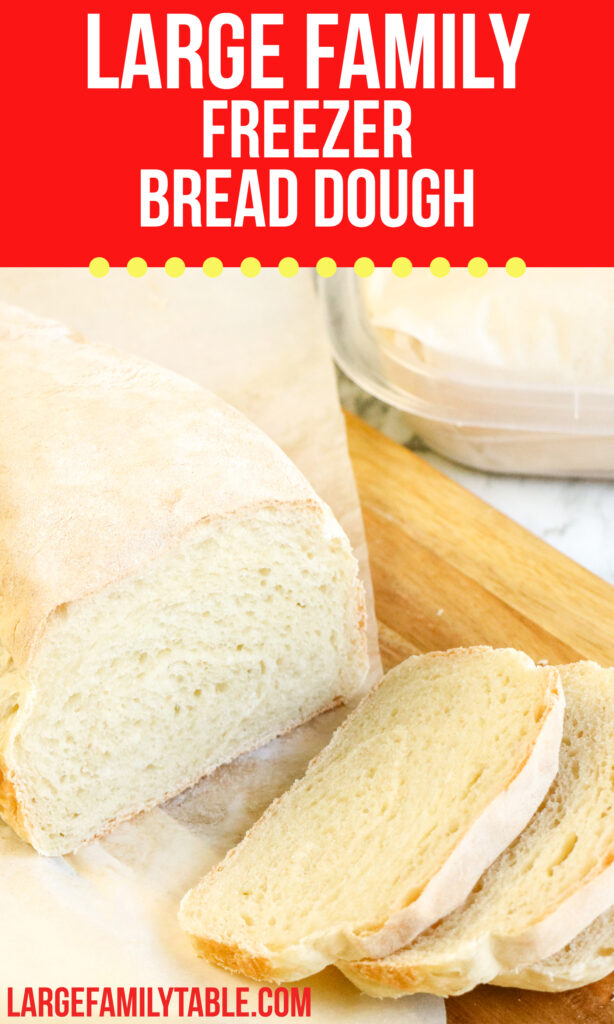 Ingredients You'll Need to Make the Freezer Bread Dough
If you're going to make the Large Family Freezer Bread Dough, you'll need the following ingredients:
Active Dry Yeast. The yeast is an important ingredient that will get your dough to rise when baking your bread.
Water. Make sure you're heating the water to 110-115 degrees before you use it.
Sugar. You'll use some granulated sugar to give this bread a sweet touch.
Bread Flour. Use the bread flour as the base of your ingredient to prepare the dough.
You'll also need some salt and oil when you're preparing the dough to make your delicious bread.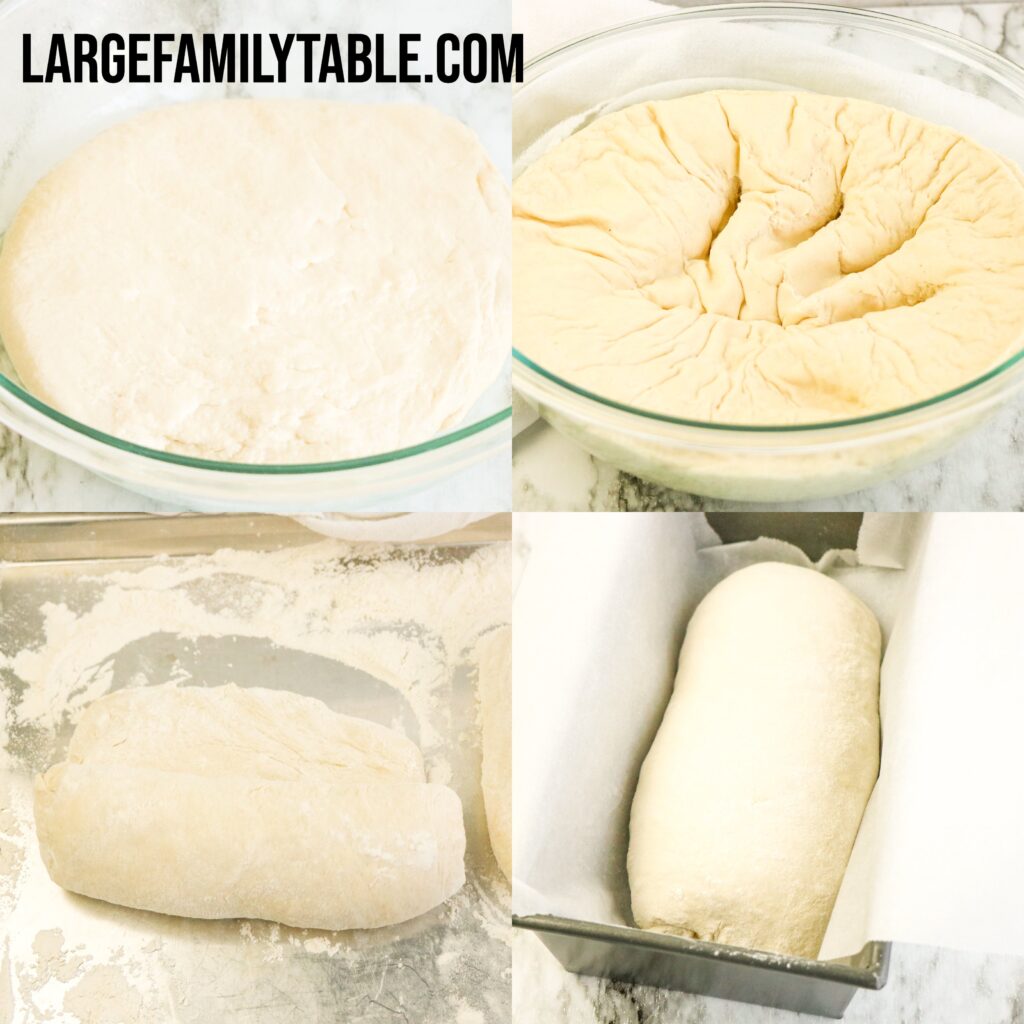 How many loaves of bread does this recipe make?
You'll make two loaves of bread when following this recipe. Even if you don't need two loaves, you can always freeze the dough and save it for a later time when you're ready to prepare the bread.
How long will the bread need to bake?
Let the bread bake in the oven for a minimum of 20 minutes. Your bread may need to stay in the oven a bit longer until it becomes golden brown on the outside. Be sure to check the bread every few minutes to make sure it's cooking as perfectly as it should.
Can I add any extra ingredients to the recipe?
Some people like to add a few extra ingredients to the recipe. For example, you might want to add Everything Bagel seasoning into the mixture. It's also fine to add shredded cheese to your bread dough to create cheesy and delicious bread. While it doesn't need anything added to it, it's fine if you want to customize it with some of your favorite extras.
What tastes good with this bread?
This Large Family Freezer Bread Dough creates a fresh-baked bread that tastes great with lots of different meals and snacks fro your family. You can prepare a sandwich on the bread using deli meat, sliced cheese, lettuce, and tomatoes. Another fun idea is to make it into some delicious French toast! You might want to add peanut butter and jelly to the bread. You can even spread butter on it and dip it into soups, stews, and chilis. Because you can do so much with this bread, it makes sense to prepare your dough to have it available whenever you want it.
Baking can be a great way to save money on groceries. Buying prepackaged bread, rolls, muffins, baking mixes, and sweet treats can get to be expensive fast. Baking ahead and freezing it in the freezer means it's ready for you when you need it and you can make it when you have the time. Try my Frugal from Scratch Baking Recipes and Staples Book One for lots of money-saving recipes like Depression Era Chocolate Cake plus three other sweet treats, four delicious versions of bread recipes, plus baking staples like cake mixes, baking mix, baking powder, and more. My Frugal From scratch Baking Book Two expands into ten new recipes. Grab them both in the DOUBLE BUNDLE!! Frugal From Scratch Baking Recipes & Baking Staples to save even more!
Here are some recipes your family will enjoy eating with bread.
Print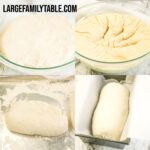 Large Family Freezer Bread Dough
Author:

Prep Time:

2 hrs 10min

Cook Time:

20min

Total Time:

2hrs 30min

Yield:

2 loaves

Category:

Baked Goods

Method:

Oven
---
Description
Save money and make bread from scratch with this simple Large Family Freezer Bread Dough recipe. Once you prepare the bread, you can make sandwiches, toast, and other tasty foods with it.
---
Ingredients
2 ¼ teaspoons active dry yeast

3 tablespoons sugar and ½ teaspoon sugar, divided

2 ¼ cups water, heated until between 110 and 115 degrees

2 tablespoons vegetable or canola oil

1 tablespoon salt

6 ½ to 6 ¾ cups bread flour
---
Instructions
Prepare two bread pans with parchment paper.

In a large mixing bowl, stir together the water, yeast, and ½ teaspoon sugar. Allow the mixture to rest for 8 to 10 minutes or until a frothy layer has formed on top.

Meanwhile, whisk together the remaining sugar, salt, and 3 cups of the bread flour.

To the yeast water, add the oil. Then, beat in the 3 cups of bread flour mixture until completely combined.

Switch to a dough hook and begin adding the remaining bread flour about ½ cup at a time until a soft dough has formed. Continue kneading with the dough hook for 8 to 10 minutes.

Turn the dough out into a lightly greased bowl. Cover loosely and place in a draft-free location to rise until doubled in size, about 1 ½ hour.

Punch the dough down and transfer to a lightly floured surface. 

Divide the dough in half. Working with one piece at a time, shape the dough roughly into a rectangle and then roll the dough from one long side to the other, tucking the ends under the loaf.

Transfer the loaves to the prepared loaf pans, cover, and freeze immediately until frozen. Once the dough is frozen, remove the loaf from the pan and place in an airtight container and freeze until needed.

To bake, place the frozen dough into a loaf pan lined with parchment paper. Allow the dough to thaw and rise in the refrigerator overnight. Remove the pan from the refrigerator to continue rising for about 2 hours or until the bread rises 1 inch over the pan.

Preheat the oven to 350 degrees. Bake the bread for 20 to 25 minutes or until golden brown. Remove the bread from the pan and allow to cool completely on a wired cooling rack.
FREE Emergency Pantry Planning Pack!
Don't forget to sign up for the emergency pantry planning pack for free to help you plan your pantry meals! The free Emergency Pantry Planning Pack will help you plan your needed pantry items! Printable pages include pantry inventory, grocery lists, meal planners, list of pantry staple items, and more.