Looking for some meal ideas that are easy to make during this busy meal planning month? Bless your family and ease your time in the kitchen with these 10 Large Family Recipes to Make in November.
****Use special promo code HELLO20 to take 20% off the entire meal time sanity-saving MASSIVE MEGA 40+ Product Bundle which includes the best-selling Large Family Freezer Meal Packs 1-15 + so much more!!****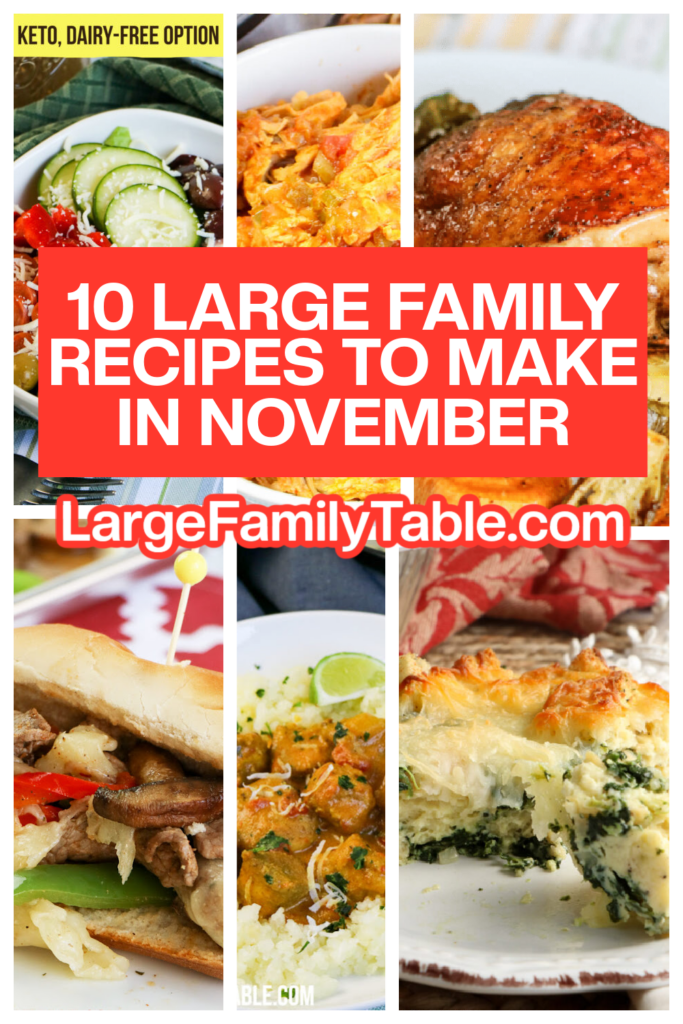 10 Large Family Recipes to Make in November
In November we each work more to share warm family memories in the crisp weather. Don't you just love how the gathering of all of your people gives you a time to celebrate your family? As we set aside a time to realize all that we are most thankful for at the close of the year, gathering with a warm meal around a friendly table is one of the best blessings we'll ever know.
With the added busyness that comes when more family are near, I want to be a help with any last minute menu planning you might have. This is just one more great thing to be thankful for! Yes and Amen!
So, friend, let me help you free up some added time to enjoy your family more with these 10 Large Family Recipes to Make in November.
Need more ideas to feed your Large Family over the Holidays?
I am very excited to share this newest big-batch cookbook with you because I truly believe it will be helpful as you plan your family holiday get-together meals (or, really, any large family gathering where you need to feed a crowd)! In my Make-Ahead Holiday Meals to Feed a Crowd, you will find some of those wonderful and traditional holiday favorites like green bean casserole, stuffing, and gravy. But you also will get some "out-of-the-box" recipes that might just possibly become your family's NEW holiday favorites!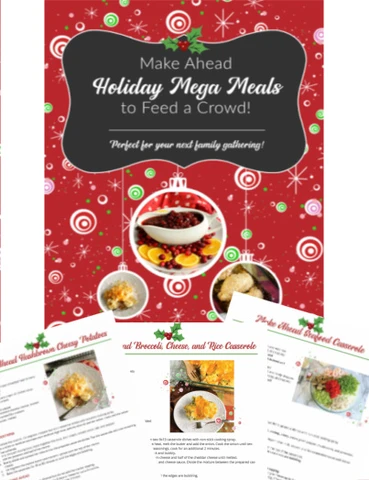 FREE Emergency Pantry Planning Pack!
Don't forget to sign up for the emergency pantry planning pack for free to help you plan your pantry meals! The free Emergency Pantry Planning Pack will help you plan your needed pantry items! Printable pages include pantry inventory, grocery lists, meal planners, list of pantry staple items, and more.