Does your dinner need some inspiration? I've put together a 50 Big-Batch Cooking Dinner Ideas for Large Families Recipe list just for you! Here is a Mega List of dinner ideas for when you need to fix a nutritious meal for your family and you need some new ideas.
****Use special promo code HELLO20 to take 20% off the entire meal time sanity-saving MASSIVE MEGA 40+ Product Bundle which includes the best-selling Large Family Freezer Meal Packs 1-15 + so much more!!****
50 Big-Batch Cooking Dinner Ideas for Large Families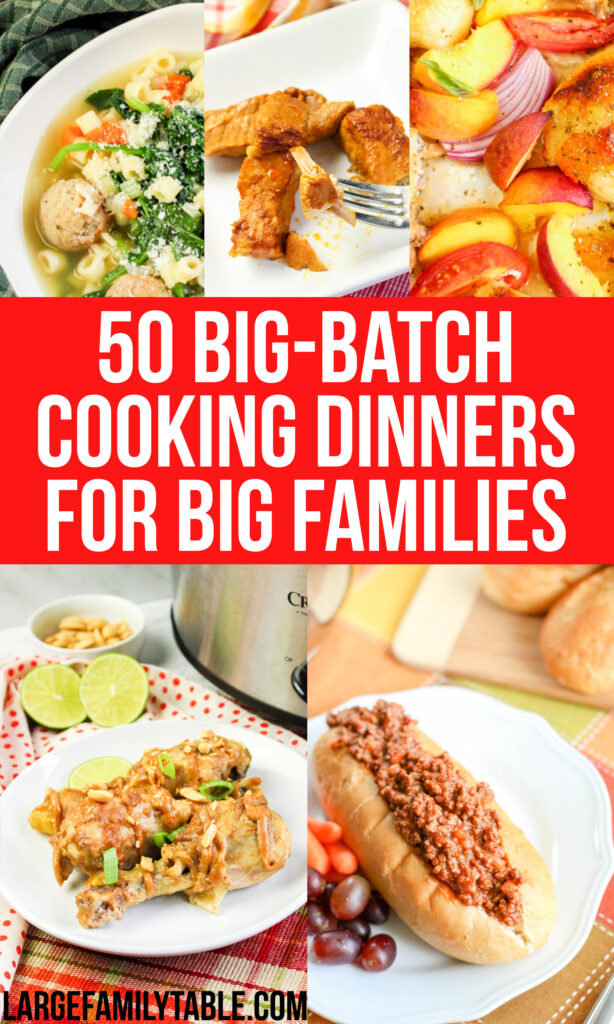 Dinner Happens. Every night.
And sometimes Mommas need help with inspiration on what to feed our families- especially when the normal food we feed them is a bit outdated and "boring" for the kiddos. Not to worry, friend- here is a great list for your large family dinner needs! My goal is to inspire you to help you live your best momma life, and sometimes that's by sharing 50 Big-Batch Cooking Dinner Ideas for Large Families. 😉
From one-pan chicken dinners to big-batch freezer meals, this Mega List will help you plan your dinner toinght. Trust me: You can throw these together in no time, whether the occasion is Sunday dinner, a birthday celebration, or a holiday gathering. 50 Big-Batch Cooking Dinner Ideas for Large Families– delicious recipes for a crowd!
What Can I Cook For A Large Family?
What Can I Feed A Large Crowd for Cheap?
One of my favorite secrets to cheap cooking for big-batch dinners for large families is to utilize my slow cooker. Why? One pot meals allow me to throw things together and yet still have everyone satisfied at meal time. It allows me to relax knowing that a warm, comforting dish is ready to go with minimal prep work.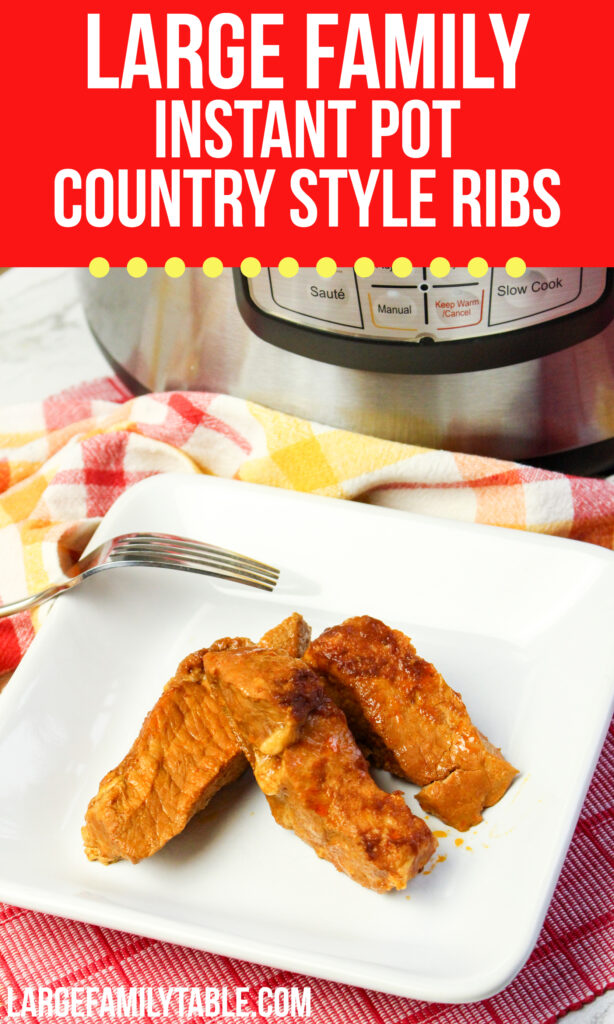 Do You Have More Slow Cooker Recipes?
Slow cooker meals are so easy. Most of them are dump-and-go recipes that you spend ten minutes preparing and a few hours later dinners ready. Yay for convenience! You'll find lots more easy slow cooker meals in my Large Family Slow Cooker Dinners and Meal Plans Vol 1, 2, 3 Bundle. It includes 60 meals and 12 weeks of meal plans!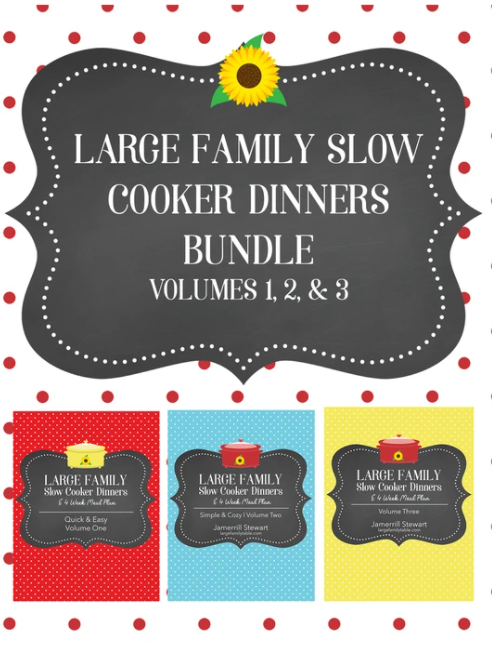 What Do You Feed Large Families?
What is an Easy Dinner to Make For Large Families?
One of the easiest ways I find to cook for a large family is to use freezer meals- and often! By having meals ready to go in my freezer, I can save money and so much time overall as I don't make mess in my kitchen every night with meal prep!
What are freezer meals?
Freezer meals are meals that are made in advance and then placed in the freezer to be used at a later date.
This can be done simply by doubling a recipe and freezing half for later or it can be done in bulk and stocking your freezer with a bunch of pre-made meals that only require heating up. You're going to love these hand-picked freezer meals for your next Big-Batch Dinner.
Just like you can buy convenient food in the freezer section of the grocery store, homemade freezer meals are the same idea – pre-made food that you can grab and heat up for a healthy, nutritious, homemade meal in a hurry.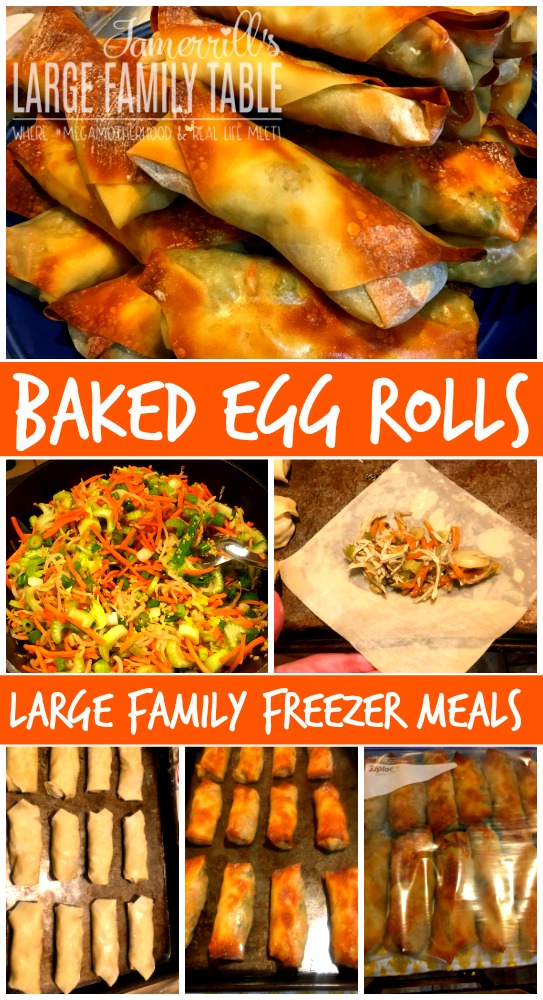 What Can I Make a Big Batch of?
Do You Have Any More Freezer Meal Recipes?
You can find so many more great freezer meals in my BRAND NEW* Large Family Freezer Meals 1-15 Digital Bundle!! It includes packs 1-15 of my best-selling large family freezer meals. You will have everything you need to make over 270 large family freezer meals (make as little or as much as you want ) including 15 batch cooking meal prep guides, 15 pack specific freezer meal grocery shopping lists, freezer meal tips, freezer meal printables including a freezer meal planner and more.
FREE Emergency Pantry Planning Pack!
Don't forget to sign up for the emergency pantry planning pack for free to help you plan your pantry meals! The free Emergency Pantry Planning Pack will help you plan your needed pantry items! Printable pages include pantry inventory, grocery lists, meal planners, list of pantry staple items, and more.